Dan's Moving Van provides full services moves for specialty items such as pool tables. The uttermost care is taken in everything we do and we provide customers with trained pool table technicians with over 20 years of experience in the industry certified by Billiards. Full service moves are provided to customers within homes, apartments and businesses.
Pool table moving
Full service pool table moves includes professional disassembly, the actual act of moving your pool table where a moving truck or van is supplied and finally the reassembly of the table. Professional leveling is used throughout the reassembly, the customer's previous pool table cloth can be professionally reinstalled or by the customers request a new piece of felt made to match your table will be installed. Dan's Moving Van offers full services for pool table moving from Green Bay WI all the way into the surrounding Milwaukee WI area. This includes the surrounding Appleton, Oshkosh, Manitowoc, Sheboygan, Kaukauna, communities and many more.
Pool table repairs
If you are having a problem with your pool table don't worry just give Dan's Moving Van a call. Our specialized pool table technician's wealth of experience in the industry can fix any problem your having. Examples of general repairs are buffing out old scratches, installing new tablecloth, leveling surfaces, pocket repair, and replacement to dead rubber on the rails that customers have covered.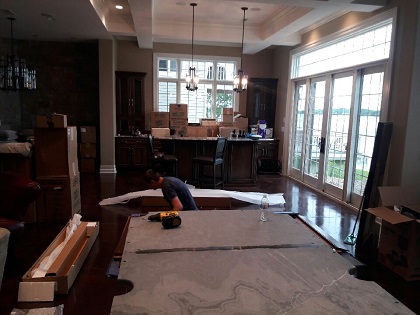 New Cloth Process
Customers always have the option when moving their pool table with Dan's Moving Van's to install a new piece of felt. Just let us know in advance, we stock an array of colors if customers would like to match their pool tables felt to their new homes interior. We always use the highest quality tablecloth that the industry offers at the time of your move.
If you are not looking at having your pool table moved, just refelted or repaired that is not a problem. Dan's Moving Van's pool table technicians can be booked just to re-felt or repair the pool table without hiring us for the full service disassembly, moving, and assembly of your pool table. Give Dan's moving a call and we can go over the pricing and specifics of the type of repair you need.
Moves to Storage Facilities
Our trained pool table specialist can dissemble your pool table and move it into any storage facility, where it will be blanketed and wrapped safely to store. This will help prevent damage from common weather problems storage units some times incur such as water and humidity. The pool table will be left dissembled to make it easier to move out for reassembly whenever the customers need Dan's Moving Van to get their pool table out of the storage facility.
Crating Services
Depending on the access within your home and the destination where your moving to some pool table moves require crating of the slate. The specifics can be talked about over the phone but the majority of crating is provided when the customer is moving a long distance. Our experienced technicians have over 20 years experience crating pool tables and can provide you with any service you need. If you even prefer your table being crated for a short distance move that can be arranged.